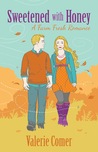 Sweetened with Honey by Valerie Comer
My rating: 5 of 5 stars
Sierra Riehl is the last of the threesome that established Green Acres still single. In Sweetened with Honey—the third in Valerie Comer's Farm Fresh Romance Series—Gabe Rubachuk re-enters the picture. Gabe, with his wife Bethany, started Nature's Pantry, an organic food store in the fictional Galena Landing in Book One (Raspberries and Vinegar).
Pregnant Bethany's life came to a tragic end when she was killed in a collision with a truck on her way home from work one night. Devastated Gabe has spent the last three years in Rumania, working in an orphanage with his parents.
He appears in Chapter 1 just as Sierra is about to administer to Doreen (Bethany's mother who has been in charge of Nature's Pantry) a bee sting to help with her arthritis pain. His over-the-top emotional reaction to what he believes will harm her shows us how emotionally fragile he still is.
However, the weeks of his adjustment back to life in Galena Landing has him spending lots of time with the Green Acres crowd and softens him to the beautiful Sierra. For her part, she is conflicted—attracted to Gabe but also romantically involved with a local commercial beekeeper whose inflated ego and money-oriented business practices rub the Green Acres crowd the wrong way, so lots of delicious conflict there.
Again in Sweetened With Honey we experience the camaraderie of the farm—Jo and Zach (Raspberries and Vinegar), Claire and Noel (Wild Mint Tea), along with Jo and Zach's toddler, his elderly parents, and Doreen are all around the table for communal meals on more than just special occasions.
Comer continues fleshing out in her characters and story line the principles of ecologically sustainable farming that fuel her stories, as well as the importance of a relationship with God. This book also deals with themes of forgiveness and honesty in relationships.
I found Sweetened With Honey a sweet and satisfying read. I'm delighted to discover it has made the shortlist in the Romance Category of the 2015 Word Awards. Congratulations, Valerie!